2017 Dinner
Please join us for the Bryce Harlow Foundation 36th Annual Awards Dinner on Tuesday, April 25, 2017 at the Marriott Marquis at 901 Massachusetts Avenue NW, Washington DC. The reception begins at 6:00pm, followed by dinner at 7:00pm.
Honorees
The  Bryce Harlow Award – Sen. Lamar Alexander
In 2016, the nation's governors created the James Madison Award to recognize members of Congress who support federalism and the 10th Amendment of the U.S. Constitution guaranteeing states' rights. The governors named Sen. Lamar Alexander as the first-ever recipient of the award for his work to fix No Child Left Behind.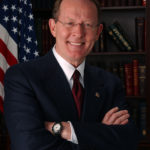 Lamar Alexander is a seventh-generation Tennessean born and raised in Maryville. Alexander was first elected to the Senate in 2002 and has been re-elected twice. His Republican colleagues elected him three times to be chairman of the Senate Republican Conference.  He has previously served as president of the University of Tennessee and as U.S. Secretary of Education under George H.W. Bush.
Today, Alexander chairs the Senate Health, Education, Labor and Pensions Committee. Alexander is also chairman of the Senate Energy and Water Development Appropriations Subcommittee, where he works to boost funding for basic energy research and invest in our inland waterways and harbors. He is a classical and country pianist and the author of seven books. Lamar Alexander and his wife Honey have four children and eight grandchildren and a dog named Rufus.
Business Government Relations Award – The Hon. Dave McCurdy
Dave McCurdy joined the American Gas Association (AGA) as president and CEO in February 2011. Founded in 1918, AGA represents more than 200 local energy utility companies that deliver natural gas to 177 million Americans nationwide. McCurdy joined AGA after serving for four years as president and CEO of the Alliance of Automobile Manufacturers (Alliance). Prior to his work at the Alliance, McCurdy served for eight years as president and CEO of the Electronic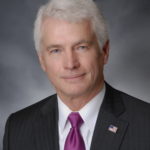 Industries Alliance (EIA) and had a successful business consulting and investment practice as chairman and CEO of the McCurdy Group, L.L.C.
Before his tenure at EIA, McCurdy had a distinguished career in Congress, spending 14 years (1981-1995) in the House of Representatives as the Member from the Fourth Congressional District of Oklahoma. He attained numerous leadership positions, including Chairman of the House Intelligence Committee. McCurdy was appointed by Secretary of Defense Robert Gates to the Defense Policy Board and served on the board from 2008-2011 in both the Bush and Obama administrations.
McCurdy is a 1972 graduate of the University of Oklahoma and received his J.D. in 1975 from Oklahoma Law School. As a Rotary International Graduate Fellow, he studied international economics at the University of Edinburgh, Scotland. He also held a commission in the United States Air Force Reserve, attaining the rank of major and serving as a Judge Advocate General (JAG). McCurdy and his wife, Dr. Pam McCurdy, a physician specializing in child psychiatry, live in McLean, VA. They have three grown children, Josh, Cydney and Shannon and two sons-in-law and three grandsons.
Your contribution supports the fellowship program and other educational activities of the Foundation. We appreciate your help!