Growing up, Bassima Alghussein traveled and lived all over the world and was exposed to different cultures, political dynamics, and viewpoints. It is no surprise that after graduating from Mount Holyoke College she would later pursue a career in foreign affairs and policy. "I wanted to work within foreign affairs and knew to achieve that I would have to go to the epicenter — Washington, D.C.," Bassima said.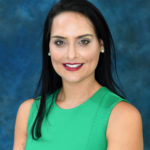 Bassima began her career on Capitol Hill working for hometown Congresswoman Colleen Hanabusa (HI). Ensuing roles included managing congressional relations for the Center for Strategic and International Studies, and serving as a Legislative Affairs Advisor in the Obama administration, where she completed the prestigious White House Management Leadership Training Program.
Currently, Bassima is President of Alghussein Global Strategies, where her unique knowledge and relationships help advance clients' project and policy goals. She is pursuing a master's degree in Security Studies at Georgetown University and was recently published in Foreign Affairs. Bassima believes in the importance of hard work conducted with integrity and considers Mr. Harlow a role model. "Mr. Harlow's stellar reputation is an example of history's reward for being honest and kind," Bassima said.