Illinois native Beth Ann Saracco credits her mother with giving her a passion for faith-based international advocacy. "Growing up, my mother instilled in me a strong sense of service," Beth Ann said. This strengthened throughout the years, and as an undergraduate at the University of Dayton she majored in political science and international relations. After graduation, Beth worked for Tennessee Representative John Tanner then secured a position with Arizona Representative Ed Pastor as his foreign relations and appropriations Legislative Assistant.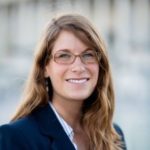 After four years on the Hill, Beth Ann took a job at Bread for the World working on international food security issues, and today she serves as a Policy Advisor with World Vision. Her most fulfilling achievement to date was her work helping to pass the Global Food Security Act. "The Act was so personal for me. Through my work travels I've seen firsthand how the law impacts vulnerable communities around the world," Beth Ann stated.
Beth Ann is pursuing an MBA from Georgetown University because she sees public and private partnerships as a tool to solving problems like poverty and hunger. She looks to Bryce Harlow's career as a source of inspiration. "Mr. Harlow knew how to speak to different audiences, but he was also authentic, and remained true to his mission and values. I hope to bring that level of integrity to my professional and academic pursuits," Beth Ann said.