When David Brinton was studying economics as an undergraduate at Mississippi State University, he made what now seems like a wise decision: to earn a master's degree in Economics and Public Policy and Administration. His interest in public policy led him to leave Mississippi and work as an intern for an independent lobbyist in Washington, D.C. "I really enjoyed the public policy courses and wanted to explore that more fully," David said.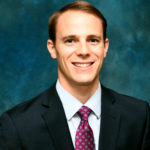 "Interning provided hands on experience in how politics and policy work together and was a great launching pad for my career."
David is pursuing a Juris Doctor at Georgetown University and works as a manager for the U.S. Chamber of Commerce in the Congressional and Public Affairs department. He lobbies on an array of issues facing the Chamber's members and is most interested in administrative law and regulatory issues. As a Bryce Harlow Fellow, he sees an opportunity to demonstrate to the American public that there are people in the lobbying profession today following the example of Bryce Harlow. "The lobbying profession betters the country, and people are serving as lobbyists in a principled and respectful way," David said.