Samantha Gilbert's fascination with politics began at a young age. "During my first trip to Disney World at 8 years old, I remember crying my eyes out because the Hall of Presidents was closed," Samantha said with a laugh. Her interest grew as she matured into adulthood. Samantha knew she officially caught the bug when she moved across the country – from New York to Montana – to work on a congressional campaign just four short days after her freshman year of college.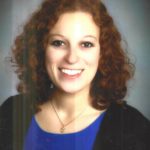 She's proud to have gotten involved in public service in many forms: at nonprofits and on campaigns, from political consulting to Capitol Hill, which she believes gives her a unique perspective. Currently, the Barnard College alum is pursuing a graduate degree in public administration at the George Washington University.
Samantha was recently promoted to the position of Junior Associate at Anzalone Liszt Grove Research, a political opinion research firm. She analyzes phone bank data to gauge the public's always-moving opinions on issues important to her clients. Armed with this skill set and her graduate degree, Samantha's long-term goal is to advocate on behalf of vulnerable food insecure populations. "I hope to serve as admirably for the general public's welfare as Bryce Harlow served," Samantha said.