2017 Highlights
Honored Senator Lamar Alexander and the Honorable Dave McCurdy
Senator Lamar Alexander (R–Tennessee) received the prestigious Bryce Harlow Award, which honors an elected official whose career is built on championing the princip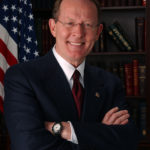 les of integrity, dedication and professionalism — echoing the work and life of the late Bryce Harlow. Serving Tennessee since 2002, the seventh generation Tennessean chairs the Senate Health, Education, Labor and Pensions Committee and the Senate Energy and Water Development Appropriations Subcommittee.
Former Congressman Dave McCurdy (D-Oklahoma) received the Bryce Harlo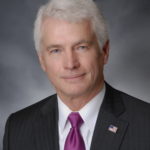 w Business Government Relations Award, which is given annually to a leader in government advocacy in recognition of an exemplary career in the profession. McCurdy represented Oklahoma in the U.S. Congress for fourteen years and served as the Chairman of the House Intelligence Committee. McCurdy now serves as President and CEO of the American Gas Association.
---
The Bryce Harlow Foundation hosted the 36th Annual Bryce Harlow Awards Dinner on April 25, 2017. The dinner brought together the nation's top government advocacy professionals to honor Senator Lamar Alexander and former Congressman Dave McCurdy.
Sen. Alexander was honored for his distinguished career and significant contributions to the advancement of business-government relations. In his remarks, Alexander shared stories about working with  Mr. Harlow, and stated "Bryce Harlow is exactly the model of the person we hope represents us in government." Sen. Alexander was introduced by his colleague, Senator Michael Bennet  (D – Colorado).
Honored for his significant contributions to advocacy, former Congressman Dave McCurdy is the president and CEO of the American Gas Association. In his remarks, McCurdy talked about the role of the Bryce Harlow Foundation, stating "it supports young people who want to make a difference – and do so in the right way."  McCurdy was introduced by his  former colleague, the Honorable Cal Dooley.
We were pleased to honor both Senator Alexander and Mr. McCurdy this year for their proven dedication to advocacy and business-government relations.