2018 Dinner
Please join us for the Bryce Harlow Foundation 37th Annual Awards Dinner on Tuesday, April 24, 2018 at the Marriott Marquis at 901 Massachusetts Avenue NW, Washington DC.
The reception begins at 6:00pm, followed by dinner in the Independence Ballroom at 7:00pm.
Bryce Harlow Award – Senator Heidi Heitkamp
The 2018 Bryce Harlow Award will be given to Senator Heidi Heitkamp (D–North Dakota). This prestigious award honors an elected official whose career is built on championing the principles of integrity, dedication an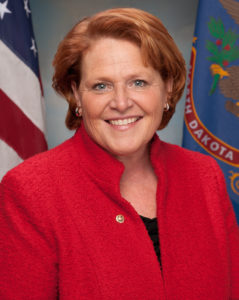 d professionalism — echoing the work and life of the late Bryce Harlow.
Serving North Dakota since 2013, Heitkamp is the first female Senator elected from North Dakota. She sits on the Senate Committee on Agriculture, Nutrition, and Forestry, where she helped write, negotiate, and pass a long-term, comprehensive Farm Bill, which Congress passed in 2014. Heitkamp also sits on several other committees, including the Senate Committee on Banking, Housing and Urban Affairs; the Senate Committee on Small Business and Entrepreneurship; and is Ranking Member on the Homeland Security and Governmental Affairs Subcommittee on Regulatory Affairs and Federal Management., among others. She previously served as North Dakota's Attorney General, and has a long record of serving as a champion for North Dakota's energy jobs and industry.
Business-Government Relations Award – Governor Haley Barbour
Former Governor of Mississippi Haley Barbour will receive the Bryce Harlow Business Government Relations Award, which is given annually to a leader in government advocacy in recognition of an exemplary career in the profession.
Founding Partner of BGR Group, returned to BGR in January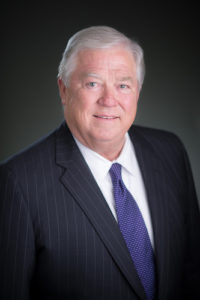 2012 after serving two consecutive terms as Governor of Mississippi, including two years as the Chairman of the Republican Governors Association. At BGR, he heads advocacy coalitions, lobbies on behalf of his clients and remains a major force in Republican party politics and elections. From 1993 to 1997, Gov. Barbour served as Chairman of the Republican National Committee when the GOP was in control of both houses of congress for the first time in 40 years. In 2003, he was elected Governor of Mississippi, assuming office in January 2004. During his tenure as governor, Barbour led his state to adopt what the Wall Street Journal called the most comprehensive tort reform in the country. In Gov. Barbour's eight years as governor, per capita income in the state increased by 34 percent. After Hurricane Katrina hit the Gulf Coast in 2005, Gov. Barbour received national recognition from the bipartisan American Legislative Exchange Council for his swift response to the worst natural disaster in American history.
Your contribution supports the fellowship program and other educational activities of the Foundation. We appreciate your help!