Biography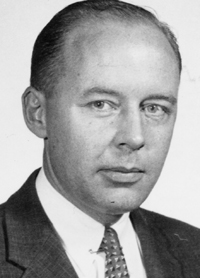 Bryce Harlow dedicated his life to both public service and private enterprise. During his five decades working in the nation's capital, Harlow served as counselor to presidents, speechwriter, congressional liaison and corporate representative — and he accomplished each role with unquestioned ability and integrity, his success driven by hard work and honesty.
Harlow's first days in Washington were under the most inauspicious conditions. In September 1938, he arrived at the Capitol building as an Oklahoma University graduate student completing research on his master's thesis about the Congressional Ways and Means Committee. He worked as an assistant for the library staff at the House of Representatives, but intended to leave Washington as soon as his research was finished. Instead, Harlow inadvertently began a career that would place him within the highest reaches of government and business.
After the completion of his thesis, Bryce was given the opportunity to stay in Washington to work for Oklahoma Congressman Wesley Disney. From the beginning, Bryce took a bipartisan approach, finding it unproductive to advocate against legislation that helped his state's constituents. At the same time, he joined the Army Reserve and was placed on active duty five months before the United States entered World War II. Bryce was assigned to Army Chief of Staff General George C. Marshall and wrote speeches and news releases for War Department personnel. Bryce handled delicate issues, such as congressional concerns that soldier constituents had been placed in active combat zones without adequate relief. Here he made his mark as a wordsmith and congressional liaison.
Following the war, Bryce returned home to work for the family business as the vice president of the Harlow Publishing Company. However, Bryce missed Washington, and kept a close eye on post-war legislation. Fortunately, he was invited back in 1947 to join the House Armed Services Committee staff under Democratic Chairman Carl Vinson. Though he enjoyed his work and admired Vinson, the post-war prosperity brought on a "government for sale" attitude that disturbed him, and this disenchantment culminated in 1951 when a member of President Truman's cabinet lied before Vinson's committee. After witnessing this, Harlow resigned from his position and moved back home to lead his family's publishing company once again.
"Bryce Harlow is a sterling example of the positive side of politics — a life spent reconciling divergent interests, serving high moral principles, and channeling the forces of public policy toward the public good."– Ronald Reagan, President of the United States of America
The new culture in Washington convinced Harlow that only one man was capable of restoring dignity to government and the executive office, and that man was Dwight Eisenhower. With Ike's election, Bryce was offered a position in the administration. It took six weeks and a call from Eisenhower himself to convince Harlow to accept the post. Though he was well-established now in the publishing industry, he ultimately could not resist the opportunity to serve his country further, especially under a president he respected so much. Once again he moved back to Washington, this time with his wife, Betty, and three children.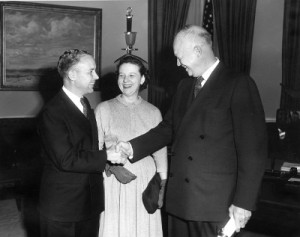 Harlow eventually settled into the role of writing major speeches for the president. Eisenhower called Bryce his "meat and potatoes man," since he was able to communicate simple ideas eloquently and effectively. Bryce had a close working relationship with the president that was founded on complete mutual trust. During Eisenhower's second term, the president tapped Harlow's intimate knowledge of Congress and assigned him as the first Deputy Assistant to the President for Congressional Affairs in a sweeping reorganization of the White House. Harlow taught his legislative liaison team to stay out of the limelight as he strongly believed this would be the most effective way to serve the president. Bryce Harlow later called his role, "an ambulatory bridge across a constitutional gulf," and every president since has continued the congressional affairs office and has given it stature and influence within the White House.
At the end of the president's second term, Bryce was uncertain about his political future in Washington. When President Kennedy was elected, Bryce transitioned to the private sector, this time staying in Washington to work as the congressional liaison for the Procter & Gamble Company, which was now run by a close friend from the Eisenhower staff, Neil McElroy. Harlow drew upon the skills he had honed defending and explaining presidential proposals in order to advocate for one of the country's largest corporations. Companies with a presence in Washington up until now only observed and reported back what was happening on the federal level. But as the government came to regulate manufacturing of consumer products, companies like Procter & Gamble felt the need to provide accurate information about those products to policy makers. It was here that Harlow became known, unofficially, as the "dean" of corporate representation on Capitol Hill.
Harlow successfully managed the course of Procter & Gamble's lobbying operation for the better part of a decade until 1968, when Richard Nixon was elected. Nixon respected Harlow's relationships with the Congress from their days in the Eisenhower administration, and named him as his first major appointment of the new administration. Once again, Harlow moved back to the White House to run the office of legislative affairs where he served the president admirably, selling his policies to a sometimes belligerent Congress. One might think the "revolving door" label would tarnish Harlow, when colleagues from the corporate lobbying community would seek his counsel at the White House, but Harlow's integrity was unblemished, always drawing a clear line between what he would and would not discuss.
In 1970 Bryce once again returned to the private sector and his job representing Procter & Gamble and its interests before Congress. When the Watergate controversy was exposed, Harlow frequently counseled Nixon unofficially because of his great personal loyalty towards the president. Harlow eventually returned to the White House after being assured by Nixon that he had no involvement in the Watergate break-in, but the toxic environment created a divide between the branches of government that even Harlow could not repair. As the details of Watergate unfolded, including the Nixon tapes, Bryce Harlow, at 57, somberly resigned from the White House for the final time and went back to Procter & Gamble.
Like his predecessors, President Ford called on Bryce Harlow for counsel while Harlow continued his career in the private sector. Promoted to vice president at Procter & Gamble, Bryce worked until his retirement in 1978. And in 1981, Harlow was awarded the Presidential Medal of Freedom, the highest civilian honor given in the United States. During the ceremony, President Reagan remarked:
"Counselor to presidents and sage observer of nearly half a century of Washington history, Bryce Harlow's vision, integrity and persuasiveness have helped to shape his nation's destiny as leader of the Free World. Never a candidate for elected office himself, his experience and advice have helped bring out the best in countless public servants of both parties, in the White House, in the Congress and across the nation. Bryce Harlow is a sterling example of the positive side of politics — a life spent reconciling divergent interests, serving high moral principles, and channeling the forces of public policy toward the public good."
Harlow vowed never to write a book about his experiences, but his own words sum up the philosophy that governed his life: "If informed, responsible citizens… will devote an increasing share of their organizational skills and ability to influencing public affairs, then America's liberty and America's future will be secure."