Ethics & Lobbying Forum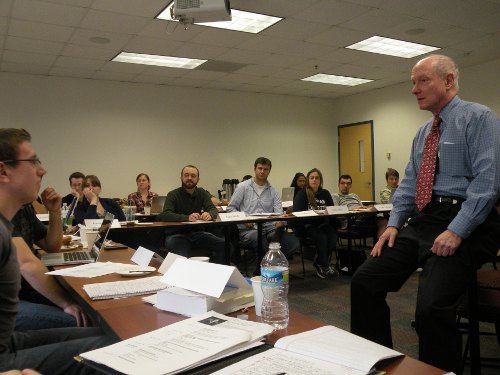 The Bryce Harlow Workshop on Ethics and Lobbying
Spend a few interesting Saturdays at American University and receive credit for exploring the legal, personal, and professional ethics of lobbying. Led by Jim Thurber, Distinguished Professor of Government and Director of the Center for Congressional and Presidential Studies, students will analyze the transcendent issues of values, the law, conflicts of interest, the foundation of ethics, and the meaning of integrity in political advocacy. The tactics and strategies of lobbying are numerous and complex, but accomplished and respected lobbyists realize that their careers will succeed only if conducted according to both the letter and the spirit of the laws and regulations affecting the lobbying activities they undertake.
Schedule and Location
Spring 2018
American University School of Public Affairs (Ward Circle Building)
This two-day workshop will be held on on February 3 and February 10, 2018.
9am to 5pm both days
This course is also open to non-AU students.
For more information
ccps@american.edu
Phone: 202-885-3491
Fax: 202-885-1038
Course Papers/Essay Contest
Each student is required to complete a written assignment of approximately 7-to-10 pages at the conclusion of the course. Students are encouraged to submit their final written assignments to be considered for the Bryce Harlow best paper award, a $250 prize that the winner will receive at American University's School of Public Affairs spring awards ceremony.
Winning papers from recent years
Whistleblower Protection Reform: Considerations for Ethics and Lobbying — Stephanie M. Logan, 2017
The Foreign Agents Registration Act: Transparency Efforts in the Age of Obstruction – Chandler Thornton, 2016 (please email to request a copy)
Big Bundles of Joy: The Failure of Regulating Lobbyist Influence in Campaign Fundraising
Phil Cardarella, 2015
Obama's Attack on Lobbying: A Perception Issue 
Amanda Shipley, 2014
Inclusion vs. Exclusion: Is Coalition Building Lobbying?
Lindsay Mears, 2013
Personal Contributions to Candidate Committees: A Solution to Quid Pro Quo Corruption
Evan Kost, 2012
Ethics and Lobbying the Executive Branch
Sarah Heidt, 2011
The Stimulus: Unprecedented Restrictions on Communications Between Lobbyists and Federal Officials
Megan Yarbrough, 2010
President Obama's Attempt to Close the Revolving Door and its Impact on Advocacy
Ryan Miskell, 2009
Congressional Ethics and Lobbying: The Case of Senator Harry Reid
Jennifer DeSimone, 2008
Lobbing and the Defense Industry
Stephen Meli, 2007
Stranger in a Strange Land: The Ethics of Lobbying for Foreign Interests
Daniel Guarnera, 2006
The Bryce Harlow Workshop on Ethics and Lobbying
Joel DiGrado, 2005