Fellowship Program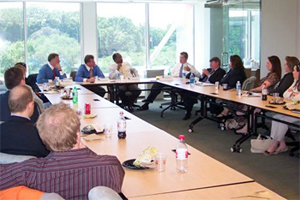 Since 1985, the Foundation has awarded fellowships to highly motivated students in pursuit of a career in professional advocacy through government relations and lobbying. The Foundation considers its Bryce Harlow Fellows to be the future of professional advocacy — those who are committed to practicing the art and science of lobbying with the highest level of integrity.
Is the Bryce Harlow Fellowship Right for You?
You are a BRYCE HARLOW FELLOWSHIP candidate if you:
Seek a challenging career advocating policy positions to government officials on behalf of a client, corporation, trade association or interest group in an effort to influence legislation or a regulation;
Understand that sound, truthful, and sometimes technical arguments play a vital role in the development of good public policy;
Enjoy monitoring and interpreting policy developments within the executive and legislative branches of government that may be of interest in the future to your company or organization; and
Believe that professionalism, subject matter expertise, integrity and compliance with the laws are the basic tenets of a successful career in lobbying.
Fellowships are awarded to individuals who undertake graduate level studies on a part-time basis and work full-time. Graduate programs may include, but are not limited to, public policy, law, and business. The $8,000 award will help defray tuition costs and will be paid directly to the university in two installments. In addition to the monetary award, fellows also have a unique opportunity to participate in the Bryce Harlow Foundation Mentoring Program, an offering that pairs a fellow with one of the Foundation's board members. Board members are highly visible in the Washington public policy arena and are successful business-government relations professionals. Past mentors have included senior executives at Microsoft, the U.S. Chamber of Commerce, and Verizon. Mentors offer a diverse portfolio of expertise and are invaluable resources for fellows and alumni. Mentors champion a fellow's career aspirations, providing professional development and career-specific networking opportunities in the business-government relations field.
"Most important to me [was] the mentoring. When debating if I should leave the Senate, I relied heavily on my mentor as a sounding board and this was critical to my decision making process…"  — Bradford Swann, Jr., Bryce Harlow Alumni Fellow
Students selected as Bryce Harlow Fellows are encouraged to re-apply for the award during consecutive years in which they are eligible. The process begins early each year with the availability of on-line application materials and ends in August with the announcement of the new class of fellows.
Eligibility Requirements
In order to be eligible for the Bryce Harlow Fellowship:
Students must be accepted for admission to a graduate degree program at a participating university. Those students attending a different university who meet all other criteria may contact the Foundation by email to be considered for the fellowship.
Students must plan to be enrolled in part-time graduate studies for credit at the participating university for at least two semesters of the next academic year.
Students who are accepted to an accredited graduate program but have not yet started their first year are also allowed to apply for the fellowship. (Please include a letter of acceptance to graduate school in place of your graduate transcripts.)
Applicants must demonstrate an interest and strong ability for a career in advocacy that relates to government relations and lobbying.
Applicants must be U.S. citizens.
Application Deadline
We are now accepting applications for the 2018-18 academic year, through April 29, 2018. 

Selection Process
The Bryce Harlow Foundation Fellowship Committee will review and select finalists from all of the applications received by the deadline. The committee will then interview the finalists, and make final fellowship decisions for the class of Bryce Harlow Fellows.
Selection Criteria
Strong applicants will demonstrate:
Strong interest in a career in advocacy related to government relations and lobbying
Professional achievement and leadership potential
Academic achievement and potential
Knowledge of the advocacy process and Bryce Harlow himself
Financial need
Notification
Applicants whose files have been received by the deadline will be notified of the Foundation's decision by early August. The first installment of funds will be paid directly to the university in mid-August.  The second installment of funds will be paid in December.